Education Consultancy
Life of a MS Student in the United States of America
After clearing the Visa to United States of America, you will have a sigh on your face that the big barrier is crossed; but it is the first step of a mountain of dreams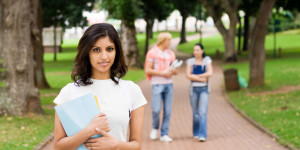 However, if you are prepared to face the ups and downs in a sportive spirit, everything will be a piece of cake.  As a student entering to the United States of America, you should know the basics of certain aspects to cope up with the new atmosphere all together.
So let's discuss about it:
The New Environment; Settling down
The moment you land in United States, your new life has begun. The Indian Student Association associated with the University, as you know, that helps you in picking up from the airport and registering with the University.  Most of the students, generally, stay in a temporary accommodation for the first few weeks.
Temporary Accommodations usually are not that great depending on which state you are going. Expect temporary accommodations to be cramped up with many new students. So be prepared for that. Apart from stay, you also need to visit the University orientation, setup a Bank Account, know about your neighborhood as to which places are safe, and know the grocery stores and other stuff.
Also, you need to start looking for a new house and try to make a group or join the group of students who already have rented the house. Always take advice from seniors as they know about the neighborhood and the prices for renting the house. Be communicative and ask suggestions whenever you make any decisions regarding renting, opening up an account etc.
Looking for a Part Time Job:
Everyone will be anxious about the part time job. But, ideally, students should concentrate towards their studies in the first semester rather than taking a part-time job. After one semester, you can certainly go for a part-time job. By then, you would have settled well.
It is always difficult to look for part time jobs without any help.  Part-Time jobs work mostly on referrals like, if someone is working in Library, he can refer you for a job in Library. So try to make contacts and request them if they can refer you.
Along with that visit the University page where they list out the part time jobs available. Apart from that you can also go into any store that is present inside the campus and ask if they have any openings. This is a tough job but it does take some time to get a part time job, especially when you have choices.
The ideal earning way would be to get good grades and become a Teaching or Research Assistant rather than working in a store. Teaching and Research Assistant can be added in to your profile and boosts your chances when recruiters see it.
Studying; A different experience:
Studies are totally different over here. You have all the freedom to choose whichever subjects you want to study and how much ever subject you wish to take in a semester. Always consult with the seniors and professors as to which subjects are good to go for in the first semester.
It happens many times that the same subject is taken by two different professors. Again consult with the seniors which professor to go for and how difficult the curriculum is. Always remember, professor would teach you the basics and the assignment levels would be way high than what professor has taught. Whenever you have doubts, immediately approach the professors or the Teaching Assistant to get it resolved.
Do not copy assignments as you would be in a big mess if you do it and strict actions were taken against them. Never try it.
The assignments and projects are going to be tough but it will elevate your skills and you would become more proficient in those subjects. Use the Library meticulously and Professors guidance; put in all your efforts towards these assignments and projects and get a good grade.
Internship Hunting:
As a student, you can start internship after 9 months (2 semesters) from the time of entering the US. It is known as Curricular Practical Training (CPT), however after graduation you can work on what is known as the Optional Practical Training. You need to apply through University international office to go ahead with the internship. This is a very simple procedure and should not take more than 5 days. You would be allowed to go for an Internship anywhere between 4 to 8 months. It is normally between May and December or even Jan and May. So if you are aiming to go for an internship in May, start hunting for it from January. The first step would be to prepare a attractive resume. You can take the help from Counselors in the University as well as seniors who are already working there to build your resume.
Once the resume is built, the next step would be to start applying. Here's how you find a job in the United States.
Websites like Glassdoor, career builder, Indeed, LinkedIn, etc.
Official Company Websites
Asking for Seniors / alumnis to refer you in the Company
Contacting HR's through LinkedIn
Attending Career Fairs in your city and University
These are the ways to get a call from a company. The process of getting a job is different. The process would be; HR shortlists your resume and gives a call to get to know you or HR forwards the resume to the Hiring Manager and if Hiring Manager likes your Resume, he/she would setup a technical phone interview. After the phone interview, if they are happy with you, you would be called for an onsite. If they are happy with the answers you gave, you would get an offer.  It takes anywhere between 2 weeks to a month to get an offer from a company. You should know everything you mentioned in your resume.
You should enjoy the campus life and get involved in various student organizations and get to know different people. This will help in developing socially and professionally.
Life as an Intern: Wonderful
To be an Intern in a company is one of the best experiences you would have. The environment will totally be friendly, interactive and fun. People would come up to you to welcome you as an intern. You would be guided through the first few weeks and then allowed to choose tasks you wish to do. You can even bring up new ideas and the ideas would be appreciated.
You will certainly enjoy the days as an intern and you can earn well as well. As an intern you will be paid anywhere between 20$/hour to 35$/hour. You will be allowed to work for 40 hrs in a week.
You have an option to try to convert your internship into a full-time job as you can avoid the hassles of getting a full-time job after graduation. If you are on a 8 month internship, approach after 6 months to talk regarding your prospects as a full time employee. People certainly would expect you to show the interest for the full-time job. So go ahead and speak with your manager.
Finally, Life with a Full-Time Job
If you are unable to convert your Internship into a Full-Time then it's time again for hunting. This time you will have more opportunities as compared to Internship opportunities. Update your resume and follow the same process as that of Internship to get a call.
Full time job search would include approximately 6 to 7 interviews. You should be very proficient in your subjects and skills when you are in search for full-time. The interviews will be grilling and will focus on your past experience, problem solving abilities and your fundamental knowledge on your skill sets.
One of the best pieces of advice that we have for any college student is that make sure that you get involved. Enjoy every opportunity that you have available at your university, even outside of your field of study. When studying abroad, it's important to take advantage of everything because you may never have those opportunities again. The United States is a very diverse country and there is a lot to see and enjoy while you are there. Make connections and learn more about the area that you reside in. Just get involved and do everything that you can.